Home> Updates/Happenings: October 2006 Archives
Updates/Happenings: October 2006 Archives
Posted by:
October 11, 2006 1:19 PM
I bought a new Apple Mac Pro Tower and I was messing around with setting up Ableton and Audio hijack pro. I hit record on the session and i was going pretty well so I just kept mixing.
Will the discerning ear fine a few mistakes, yep? But who cares, this I what i'm doing for fun. :)

Download the finer things in life: Music, Computers and Beer. lol
I can fabricate a tracklist soon.
p.s. Electro house/Housey Mchouse
Update:
TrackList:
Kurd Maverick - 'The Rub (I Never Rock)
Bodyrox - 'Yeah yeah' (D. Ramierez)
Justin Timberlake - 'Sexyback' (Randy Boyers Dirty Sex Club Mix)'
Shmuel Flash & Hauge - 'A Fafloyze' (Juicy Trax)
ID - 'Samuri Greg' (Churchill Mix)
Max Graham - 'Crank'
Fedde Le Grande - 'Put Your Hands Up For Detroit
Fonzerelli - Moonlight Party
Chris Lake Feat Laura V. - 'Changes' (Chris Lakes Vocal Club Mix)
Posted by:
October 5, 2006 2:18 PM
We...must....go.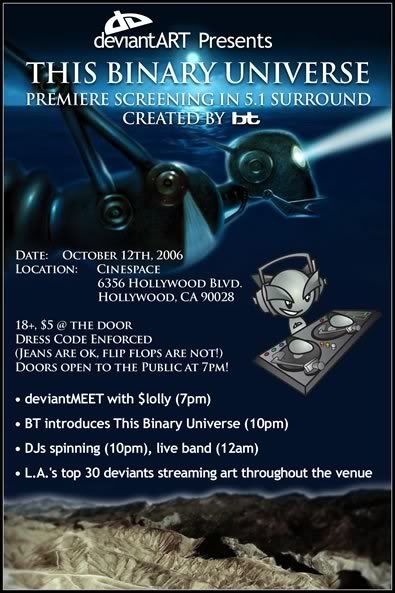 Home> Updates/Happenings: October 2006 Archives